Adipose, excess skin and stretch marks
---
Introduction
---
Frequently diastasis recti is associated with additional surface defects and blemishes.
Excess skin marred by stretch marks, fatty deposits, pendulous abdomen or keloid scars in the aftermath of previous surgeries may require treatment to enhance the structural work performed on the diastasis and give the desired aesthetic appearance.
The most common conditions to treat
---
Classically, the skin of the periumbilical region is thinned and dystrophic due to the excessive tractions that develop during pregnancy and subsequently due to the diastasis itself. Stretch marks are frequently observed in a radial pattern around the navel, especially in the upper plica, which in many cases are associated with dysmorphic phenomena in the presence of any piercings.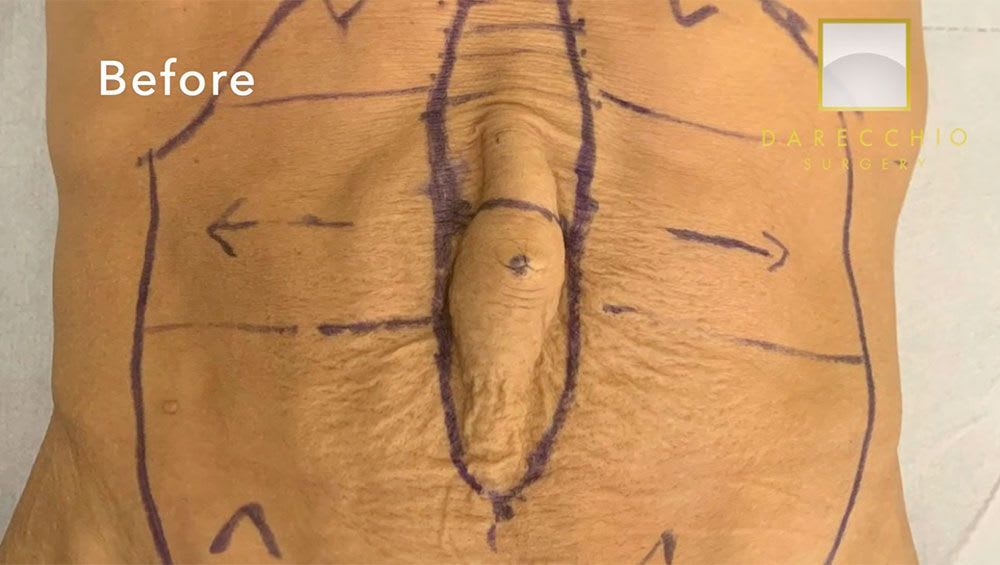 Radiating stretch marks and excess peri-umbilical skin.
Excess skin is often concentrated in the suprapubic region especially if there is a previous retracted cesarean section and sometimes on the upper abdominal quadrants if there is a large diastasis.
Localized adiposity tends to concentrate in the so-called "belly belt", that is, that region of the lower abdominal quadrants that turns from side to side in a belt-like fashion.